Specialization: contemporary and old classical music
In singing, my first love is early music. From medieval to renaissance to baroque, it's close to my heart. During my education, I followed masterclasses and worked with several early music specialists (Rebecca Stewart, Jos van Veldhoven, Marius van Altena). This style of music fits my voice very well and I love exploring it.
My other area of focus is the contemporary classical repertoire. Contemporary classical music is something most people find difficult and strange. However, when daunting at first, modern music can be very interesting and diverse once explored further. By presenting the music in an original and engaging way, I hope to achieve that people enjoy experiencing contemporary classical music.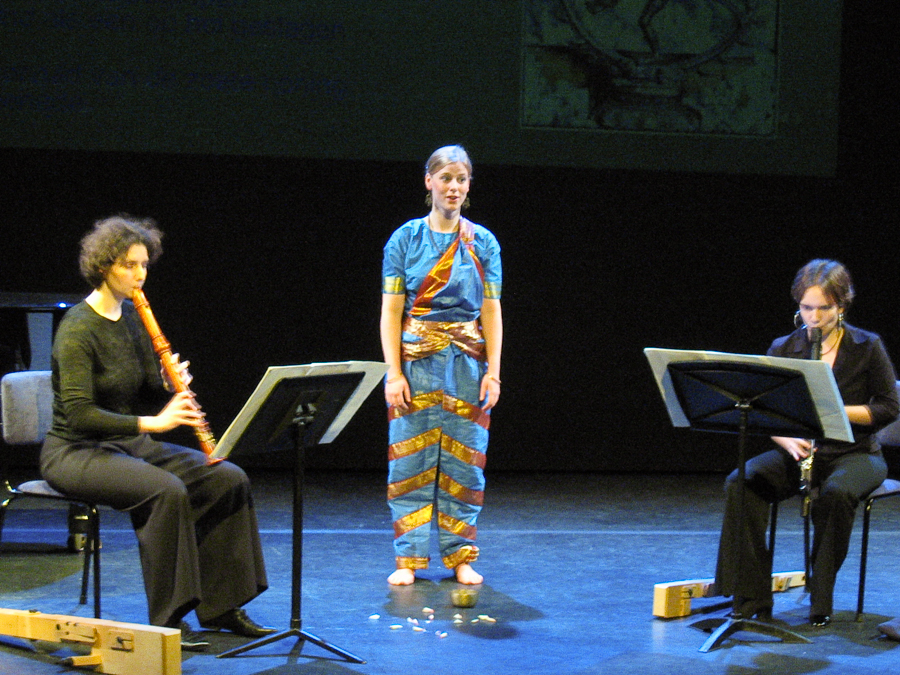 Multimedia performances
In my performances I regularly use other art forms like paintings or videos, dance and original programme leaflets. Using less common and interesting instruments makes attending a live-performance very interesting as well. Usually I combine both modern and old music, to create a nice flow, and a balance between agitation and relaxation.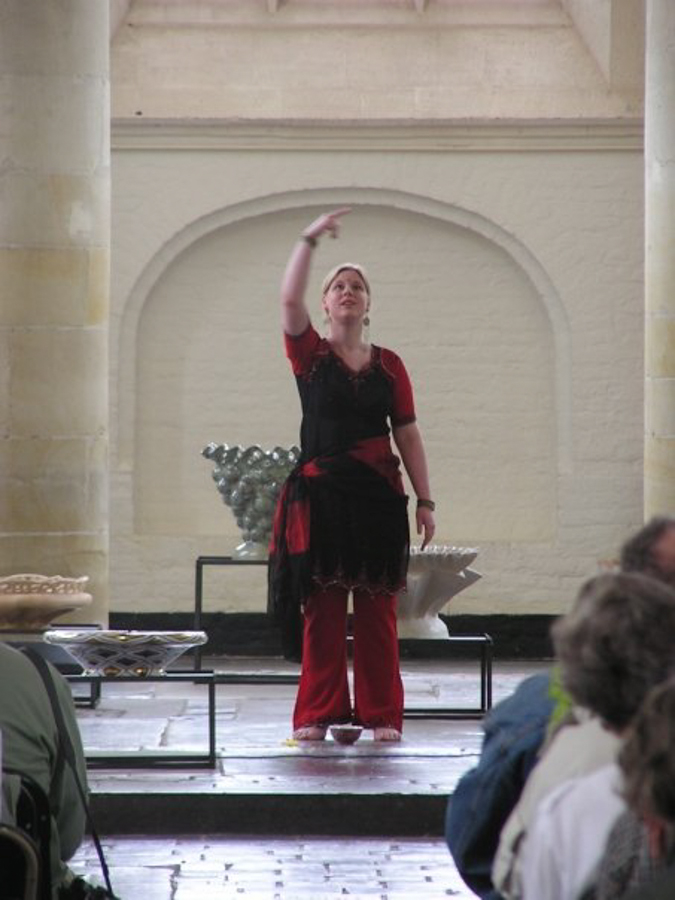 Concert soprano
I'm available as a solo soprano for concerts as well. I regularly perform as a soloist with choirs and orchestras. You can book me for lots of styles and combinations. For more information about availability, prices and repertoire selection, you can contact me via email.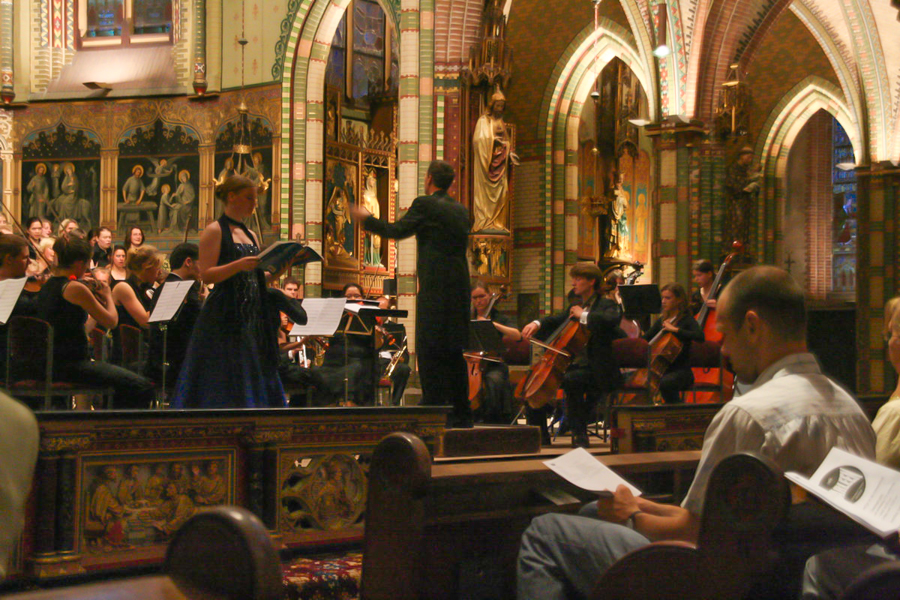 Repertoire list
Harma sang and played the following roles:
| | |
| --- | --- |
| Inanna | Louis Andriessen (role: Inanna) |
| The Golden Vanity | Banjamin Britten (role: Cabinboy) |
| Pontormo | Niels Berentsen (role: Pontormo's Spiegelbeeld) |
| Alzheimer | Chiel Meijering (role: Zuster) |
Harma was soprano soloist in these oratorios:
| | |
| --- | --- |
| Matthaeuspassion | Bach |
| Weihnachtsoratorium | Bach |
| Jephta | Carissimi |
| Die Jahreszeiten | Haydn |
| Die Schoepfung | Haydn |
| Requiem | Fauré |
| Messe Basse | Fauré |
| In the beginning | Copland |
| The Messiah | Händel |
| Stabat Mater | Pergolesi |
| Requiem | Duruflé |
| Magnificat | Rutter |
| Te Deum | Charpentier |
| Cantica de Santo Benedicto | De Haan |
A selection of songs:

| | |
| --- | --- |
| Wolf | Moerike-Lieder |
| | Italienisches Liederbuch |
| | Spanisches Liederbuch |
| Poulenc | La courte paille |
| | Fiancailles pour rire |
| Britten | Folk Songs |
| | Cabaret Songs |
| Schumann | Frauenliebe und -leben |
| Schumann | Liederkreis |
| Schubert | Suleika I & II |
| Debussy | Beau Soir, Nuit d'étoiles, Les cloches, etc. |
| Mozart | Various songs |
| Fauré | Various songs |
| Kurtág | Drei alte Inschriften |
| | Scenes from a Novel |
| Grieg | Various songs |
A small selection of old music:
| | |
| --- | --- |
| Vivaldi (cantates) | Era la notte quando i suoi splendori |
| | Amor hai vinto |
| Händel | Mi palpita il cor |
| | Giulio Cesare (Cleopatra) |
| Scarlatti | Soccoretemi |
| Monteverdi | Lamento della Ninfa |
| Purcell | From rosy bowers |
| | The Plaint (The Fairy Queen) |
| | From silent shades |
| | O solitude |
| | Dido's lament (Dido and Aeneas) |
| | Sweeter than Roses |
| Solage | En l'amoureux vergier |
| | S'Aincy estoit |
| Binchois | Adieu, adieu |
| Dunstable | Sub tuam protectionem |
| | Sancta Dei Genitrix |
| | Quam Pulcra Es |
A selection of contemporary repertoire:

| | |
| --- | --- |
| Webern | Opus 12 |
| | Opus 13 |
| | Dehmelliederen |
| | 8 frühe Lieder |
| Berg | Sieben Frühe Lieder |
| Kurtág | Scenes from a novel |
| | Kafka-fragmenten |
| Cage | The Wonderful Widow of Eighteen Springs |
| Manca | Il terzo congegno del sole passante |
| Pappalardo | A Passage to more than India |
| Karaferi | Thalassa tou proiou |
| Gaskill | Gedichten voor Shiva |
| | Colours |
| Bolcom | Cabaret Songs |
| Currie | Death |
| Ford | Songs on texts of Dylan Thomas |
| Podlipny | Starry night |
| Stravinsky | The Owl and the Pussycat |
| | Ami bien cher |
| Smirnov | Liederen |
| Firssova | Liederen |
| Auvinen | Facta |
| De Roo | Worüber man nicht reden kann, davon muss man schweigen |
| Nasopoulou | Rodia = So4H2 |
| | HemiAeroPartitura |