ÆroDynamic's CD The Garden with Countless Windows (Lindoro) appeared in 2012 and features a collection of medieval and contemporary compositions on change, a universal theme in music and poetry through the ages. This CD is available for 15 euros + postage & packing. You can order it via the Contact Form. Scroll down to read more about the CD.
ÆroDynamic also recorded a second album, Ley y Juegos de Amor, sponsored by the Fundación de Cultura Ciudad de Cuenca. This album can be downloaded for free.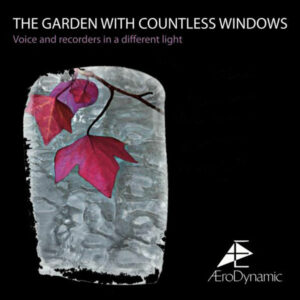 The Garden with Countless Windows
Within the dreamlike setting of Nikos Egonopulos' poem Rodia=SO2H4, the 'garden with countless windows' provides a space where the contrasting elements of an impossible, surrealistic landscape can connect and interact. Looking through these windows we find an ever-changing landscape full of ever-changing stories.
Change, an unavoidable presence in our lives and those of our predecessors, is a universal theme in music and poetry throughout the centuries. Change is also the thread behind the story told in this record, be it disguised as a lover's contemplation (Sus une fontayne – Ciconia), the description of a terrible disaster (FACTA – Auvinen) or the yearly arrival of spring (Balloons – Gaskill).
Change may be wished for, when it adds something to our lives, be it honor (Resvellies vous – Dufay), completeness (Quam pulchra es – Power/Dunstable) or the outmost experience of change as the generation of a new life (In the alchemy of the world's dream – Arnhold). But change is also feared when it takes the shape of feebleness, death, or confronting the unknown (Sotto l'imperio – Da Bologna). Our fragility revealed, we turn to the forces above us and seek protection (Stella maris, Sub tuam protectionem – Dunstable).
You can listen to some excerpts from The Garden with Countless Windows on the Video page.